Services
Tremendous advances have been made in dental technology. We maintain the latest in software and tools so we can treat you with the most minimally invasive techniques possible.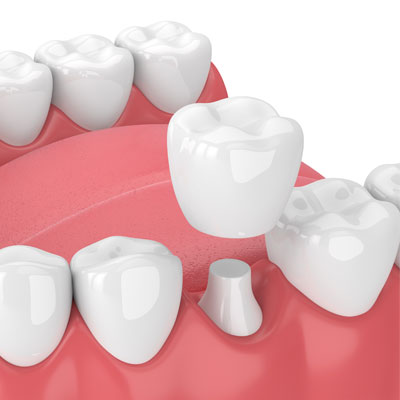 Same Day Crowns
Oral health technology has made major enhancements to dramatically improve dental treatment in recent years. One such technology is the CEREC in-office dental CAD/CAM equipment. It includes a digital infrared camera for obtaining an optical impression of the damaged tooth, 3-D CAD software for designing the restoration, and CAM technology (milling unit) that uses high-speed burs to mill the restoration. CEREC is making it possible for patients to receive custom created crowns in just one dental visit. This in-office system uses sophisticated software and a chairside computer to design, modify and render dental restorations with extreme precision.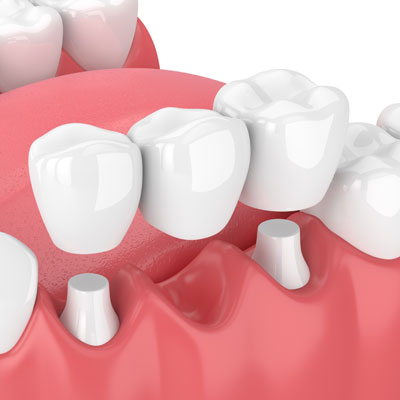 Bridges
Bridges are custom-fitted tooth prosthetics that are used to replace or restore damaged or missing teeth. Bridges are used to fill in the gaps left by missing teeth and are anchored in place by the natural teeth or crowns nearest the empty space. Bridges are permanently placed and must be cemented in by a licensed dentist. Patients who get bridges to restore their smiles achieve both the function and appearance of natural, healthy teeth.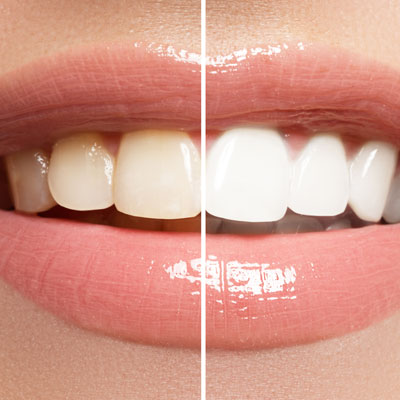 Whitening Systems
Teeth whitening procedures are used to brighten the appearance of a patient's smile – sometimes by as many as 5 to 10 shades in a single session. According to the American Dental Association, teeth whitening procedures have become some of the most popular esthetic dental treatments among patients throughout the country. Professional teeth whitening services can be performed in an office setting or prescribed for take-home use by a patient. In comparison to over-the-counter teeth whitening treatments, professional whitening uses stronger whitening agents that deliver faster and more effective results.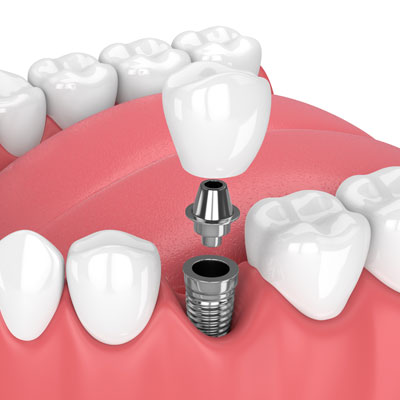 Restoring Dental Implants
Dental implants are surgical-grade root devices that support permanent tooth prosthetics that are manufactured to last a lifetime. These artificial roots are anchored in the bone beneath the gums where they become fused into the jaw. A crown is mounted atop the implant for a long-lasting and natural looking smile. Many dentists and patients prefer dental implants because they offer the same function as natural teeth and also help prevent bone atrophy in the jaw. Dental implants may be used to replace a single missing or damaged tooth or to restore an entire smile.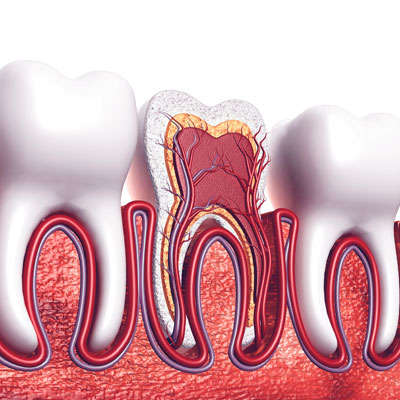 Root Canals
Root canals are valuable dental procedures used to treat and preserve teeth with badly infected roots. The pulp is the live portion of the tooth that extends into the root and contains nerve endings and tissues. When it becomes infected, patients can experience pain, swelling and even total tooth loss unless treated. Root canals remove the damaged parts of the tooth and infected root. In some cases, an antibiotic is prescribed to help prevent further infection within the tooth. The organic portion of the tooth that remains may be restored using a cap or crown that provides a natural appearance and normal tooth function.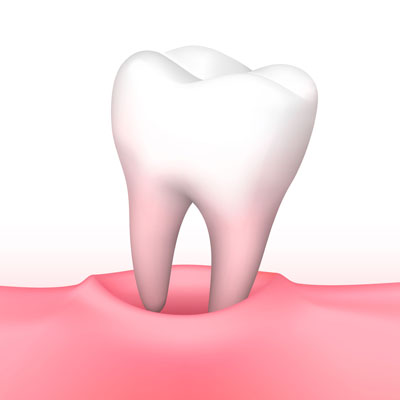 Tooth Extractions
Tooth extractions are routine dental procedures used to remove decayed, damaged or otherwise problematic teeth. Dentists usually make every effort to preserve natural teeth, although sometimes an extraction is necessary. Although the procedure is performed in a dentist's or oral surgeon's office, it is considered surgery. Depending on which teeth are removed, they may be replaced with a dental implant or another oral prosthetic.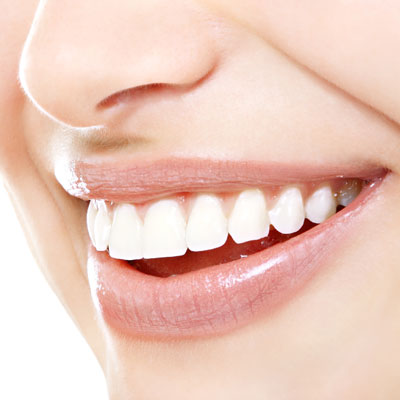 Veneers and Laminates
Dental veneers – also known as laminates – are used to cosmetically enhance the appearance of one or more teeth. Veneers are very thin, porcelain or resin shells that are customized for a desirable color and shape. They are bonded to the surface of the teeth to reshape broken, misshapen or irregular teeth, as well as provide a solution for discolored teeth that do not respond to traditional whitening treatments. Patients with veneers typically achieve a natural tooth appearance that is well-tolerated by the gums and also resistant to future stains.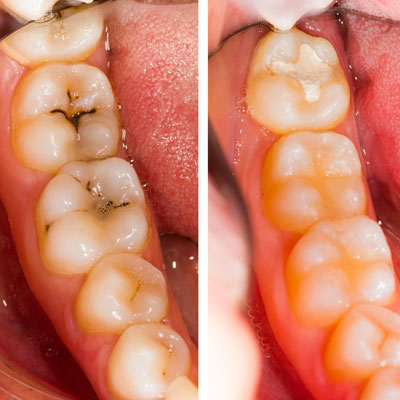 Composite Tooth Colored Fillings
Composite fillings – also known as tooth-colored fillings – are dental restorations designed to be inconspicuous and natural in appearance. They blend well with the teeth and appear more natural than amalgam fillings, which are darker and more easily seen by other people. Composite fillings are made of ceramic and plastic compounds that chemically bond to the teeth. They can be used to fill in decayed areas of the teeth, as well as to help repair chipped or broken teeth. Most dentists use composite restorations to treat the teeth closest to the front of the mouth, as they are more noticeable when patients smile. However, advancements in dental technology and the composition of composite fillings have made it possible for dentists to also use tooth-colored fillings on molars, which receive more wear than other teeth.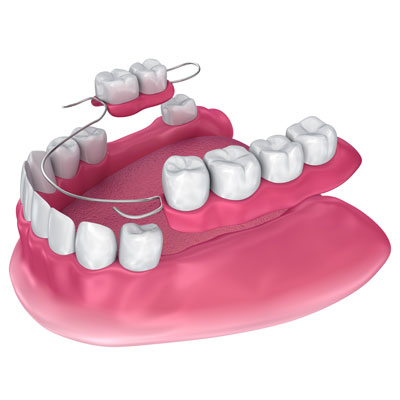 Dentures/Partials
Dentures are removable tooth prosthetics designed to look and function like natural teeth. For thousands of years, some form of denture has been used to fill in the gaps left by missing teeth, although today's dentures are much more advanced and easier to care for. Most dentures are composed of replacement teeth attached to plastic bases that take on the appearance of the gums. They are used to compensate for one or more missing teeth, and are available as partials and complete sets of teeth. Many dental patients elect dentures for tooth replacement if they are not candidates for dental implants or are otherwise looking for a tooth replacement option that is more affordable and budget-friendly.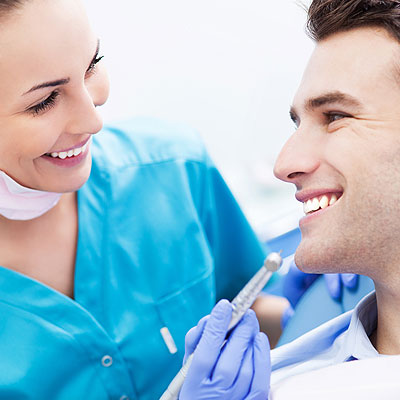 Hygiene Services
Preventative care is a foundation of dentistry. The American Dental Association recommends visiting your dentist regularly – usually about twice yearly – for full cleanings, examinations, and consultations for potential treatment. Professional dental cleanings help remove built-up plaque that is not removable using conventional brushing and flossing. Often, dentists are also capable of identifying potential problems that patients are not yet able to see or feel. When you maintain regular preventative dental appointments, you can stave off decay and gum disease, as well as identify the beginnings of oral health problems before they become severe.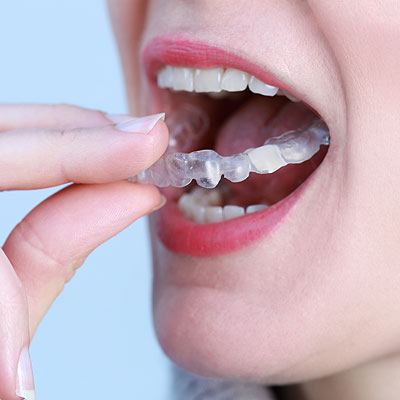 Night Guards
A bite guard is a dental appliance custom-fit to a patient's teeth. Bite guards serve varying purposes and are often recommended for use in patients of all ages. It is important that bite guards be professionally fit, rather than purchased over the counter, as this ensures maximum comfort and protection during wear. Professional dental guards are usually prepared in a dental lab using an oral impression taken in a dentist's office. These guards are created uniquely to each patient to prevent discomfort, slippage or inadequate protection. Bite guards protect the teeth, tongue and cheeks during sports and high-impact activities as well as protect the teeth from nighttime grinding or clenching.
Whether Cosmetic or General Dentistry, Dr. Scott Griffith can create an amazing new smile for you.